Our job is to travel the world and give people the best tools and information for a better vacation with no stress. One of the essential things in our suitcase is the travel drone for beginners, our DJI Spark Drone. NO B.S. It's a fantastic beginner travel drone. The DJI Spark takes beautiful travel videos, and it's easy to use.
In this blog post, we are going to go over what we feel is the best travel drone for beginners. FYI, we don't promote products that we haven't used ourselves. If you want honesty, we currently use this product and we will tell you both the good and the bad. We have personally used this drone a lot over the past six or seven months and have got some great footage as you can see in the video below.
When we first started as a fulltime travel couple, we bought and returned at least 2-3 drones. They were always hard to fly; camera footage wasn't right and it felt like they were cheaply built. We finally broke down and spent the $390 on the DJI Spark and so glad we did. You can immediately tell the difference.
Below are our reasons why we think the DJI Spark drone is the best for beginner's and travelers and a few tips we have picked up from many hours of usage.
1. It's small!
You will learn quickly when traveling; less is more. The Spark Drone is less. Even with the case, extra battery and remote control the DJI Spark can easily fit in a backpack. Here is the link for the case I use, which I really like. It not only holds the drone, but all the accessories. It protects the spark and controller well and it's not expensive.

2. Easy To Use
Again the first few drones we bought were flying into trees and houses and landing on rooftops. We had an overall nightmare of a time trying to fly it. The DJI Spark Drone is so simple. Turn it on, put it in the air and you're already a professional pilot. It has sensors in the front so it won't run into things, but be careful as the sensors are not on the back like some of the other DJI drones.
3. High Quality
When you pick up the DJI Spark Drone, you can tell it's well built. It's made of hard sturdy plastic; it does not feel cheap at all. We have never crashed the drone into a tree or on the ground, so I don't know how it would hold out in that situation, but I landed it in the ocean once, and it died.
So needless to say they are not waterproof, and we are on our second drone.  I have to confess it was pilot error because I didn't calibrate the drone for a new country. If you plan to visit a different country you need to calibrate the drone before flying.
4. Product Updates
DJI is always updating its firmware and software which improves the drones flying ability.
5. Agility
This small compact drone is easy to fly for a beginner. It's very agile, quick and compact. You can also put it in sports mode which speeds it up considerably.
6. The Perfect Shot
When traveling, getting the perfect shot is all about timing. From start to finish it usually takes about 45 seconds to set up. You don't always get your shot, but it's not a 5 or 10-minute process to get the drone in the air.
7. Price
I think the price is relative, everybody says the price is great, but $390 to one person could be quite pricey to another. That being said, if you're comparing the Spark price to other DJI drones, it's definitely your best option. It's more than most other drones you're going to purchase for beginners, but you're also buying quality and something that you'll be able to use for years to come.
We have read other blog posts about DJI and reasons to buy and frankly some of them are ridiculous. This is an honest post of a couple that has used it for hundreds of hours all around the world.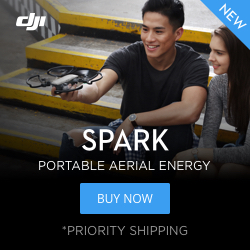 1. If it's really windy, don't fly it.
2. Customer Support
Let's just say it's not great. They have the best product, and a monopoly so, we'll leave it at that.
A Few Tips
Buy the adapter that connects your phone to the controller (it really helps).
Fly it at home with no water near you before a vacation or using over water. It doesn't take long, but don't pull it out for the first time on a Caribbean island on the ocean.
Get 1 extra DJI battery, it only lasts 15 minutes, and if you are on an excursion that lasts all day, you will most likely run out of battery.
You can check out the DJI Spark at the DJI Store or Amazon.

Beach Drone shots in Costa Rica with DJI Drone
Here is a video of some beach video using our DJI Drone on some of the coolest beaches we visited while in Costa Rica. 
Our Mission
Our goal while traveling the world is to help couples find the best cultural experiences in every country while keeping costs very reasonable. We have become experts in planning travel and not breaking the bank!!
If you decided to subscribe to our website and become part of our travel community, we want to welcome you and thank you for your support.  We strive to bring you valuable information towards your travels and we want you to know we are here to answer any of your travel questions.  We give a great deal of FREE information to make your lives easier. Learn from our mistakes!!
We also have an Instagram, Facebook, Pinterest, and Youtube Channel all at @2travelinglovers.     
Travel Resources
If you are interested in checking hotel prices we have found booking.com to have the most competitive prices.  Click here to check out hotels.
All of our video footage is taken with GoPro HERO6.  It's a waterproof digital action camera for travel with a touchscreen.  We use this camera daily, and we love it. If you are interested in checking it out here is the Amazon link:  Click here.
The drone we use is the DJ Spark with Remote Control Combo.  We like this drone because it's compact, it's effortless to take on trips, it's easy to fly, and it shoots 1080p.  All of our drone footage on our blog posts and youtube videos are taken with this drone. We highly recommend it. If you are interested in checking it out here is the Amazon link:  Click here.             
Another item we use daily is our Primocean Backpack with an insulated cooler bag.  We use this as Christie's carry on bag on the plane and as our cooler at our final destination.  We used to use a different backpack and we switched to this one because it's better made of durable material with quality zippers.  We love this backpack!!  The cooler section is smaller; however, all the compartments and the quality of the backpack make it a much better choice for basically the same cost.  We wish we would have thought of this item a long time ago. If you are interested in checking it out here is the Amazon link: Click Here.  
Affiliate Disclosure:
2 Traveling Lovers contains affiliate links. If you make purchases through these links, we will earn a commission at no extra cost to you. These commissions help reduce the ever-increasing cost of keeping this site active, along with enabling us to bring you more quality information regarding travel. Thank you for supporting our blog.
Italy is one of our favorite travel destinations. There is so much to see and do you will never get bored, from the ruins to the big cities with impressive monuments, to the picturesque sprawling vineyards, Italy is divine in every way. We've compiled a list of the 21...